Punta Gorda Historic District gets new look with a Modern home.
Monday, May 19, 2014
Brian and Melissa Sujevich
hosting an open house with the new owners
Punta Gorda, Fl.
Just a few months ago was an empty space in the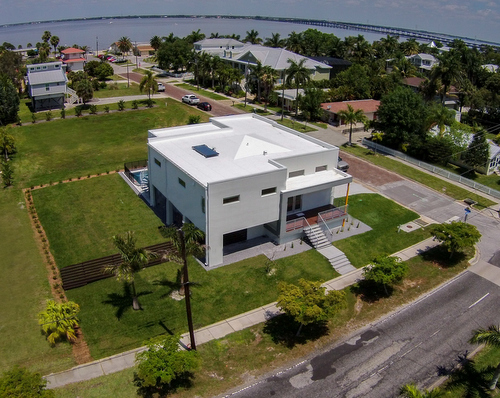 corner of Marion and Berry, in the heart of the Historic District. And now is a wonderful post-modern style single family home, that reminds me a lot the Paul Rudolph homes in Lido Beach. The property is the first Leed certified home in Charlotte County.
The construction is a proud product of our friend Brian Sujevich and partners from
Green Coast Homes
The space is light and airy with simple and elegant lines, giving privilege to the interior spaces. The house was designed having in
mind energy efficiency. I can see the house working as a "live space". Well ventilated with lots of light and well defined areas.
At main floor, the space is well used hosting a half open two car
garage, swiming pool and solarium.
The "Open House" was hosted by the homeowners and the builders, under the coordination of Stacey Calvino of
Red Head events
.